I just found out in the past week that my high school alma mater, Bedford Road Collegiate Institute in Saskatoon, Saskatchewan, is
changing the name of its team from the "Redmen"
after almost two decades of discussion after being mandated by the Saskatoon Board of Education to do so this week. I have appreciated the writing that the StarPhoenix has done on the subject, as it has been mostly balanced and has provided me with a fun connection to my past (particularly as several of my schoolmates have been popping up in interviews), and now I feel the need to put my two cents into the conversation. I think that it is long past due for a name change for Bedford Road, and I am glad to see that the school will finally be making the change to a new logo.
Deconstructing the arguments against change
There are a few arguments that accompany any discussion of changing any of these names, so I want to take some time to deconstruct each argument before I discuss my thoughts on this particular situation. I have heard each of these in regard to Bedford's situation, so that's why I feel the need to break them down before I get to the actual impending change. The arguments are in italics, with my responses following.
1.
There is tradition behind the name
. There are a lot of negative traditions that people hold onto, but it does not mean we need to continue to perpetuate prejudices and misnomers. Besides, many of these "traditions" have only started in the 1950s or 1960s, so they are not even that traditional; even if they were, tradition is not a good enough reason not to change.
2.
It's not really offensive.
I don't know what this exactly means, but it comes out any time that this subject comes up. Really, what this argument states is that the group of people who are offended is so insignificant as to nullify any offense as irrational or unimportant. These names are offensive not only to the groups in question, but to a wider population that is continually growing.
3.
Other teams/schools do it, and it's not a big deal.
The fact is that it is a big deal, and the fact that there are still thousands of schools that use this imagery is one of the more egregious examples of continuing prejudice in North America. And it's only going to become a bigger deal in the next few years. And eventually, it might also include some discussion about the issues faced by Muslims by the name "Crusaders" - but that's probably a few years off yet.
4.
There are names that use other cultural monikers, so why is this a big deal?
Sure, there are Spartans and Trojans and even Vikings and Highlanders, but those names are different. Some are not current names, and some schools use those regional names because of a connection with the area (the Minnesota Vikings are established in an area with a high immigrant population from Scandinavia, for example). Stop for a second and consider the backlash if a team was named after another existing cultural group from Africa or Asia or even South America; can you imagine the Zulus or Pygmys or Arabs competing as a team? That's how ridiculous this argument is.
5.
If they change the name of [insert school here], they should change the name of [insert other school or professional sports team here].
Yes, that is correct, those names should be changed. However, their lack of change does not negate the fact that this team's name is offensive on its own and needs to be changed, regardless of what the other teams do.
A Personal Reflection
I was in Grade 9 and working for the Spark, the school newspaper, when this topic opened up for the first time as a public discussion in the fall of 1996. There was an entire year of forums held, articles printed, and discussions had; this was, of course, in the early years of the internet, so this was all through the novelty of personal contact. From what I saw, it was a very well-conducted process, and all sides felt equally heard and represented. The conclusion at the time from the community at large, and in particular the First Nations community, was overwhelmingly in support of keeping the name as a point of pride and positive reputation. I remember thinking at the time that as long as the community that
should
be most offended was happy with it that I should be okay with it too. After that year, the discussion did not come up again while I was in school there.
Mostly it was positive - but not always. I remember clearly when our teachers had to intervene repeatedly when our entire school population engaged in the Atlanta Braves' signature "Tomahawk Chop" hand action and chant while our football team was contending for the provincial championship; and I'm somewhat ashamed to admit that I participated in the chant, even though I knew somewhere deep down that it was wrong.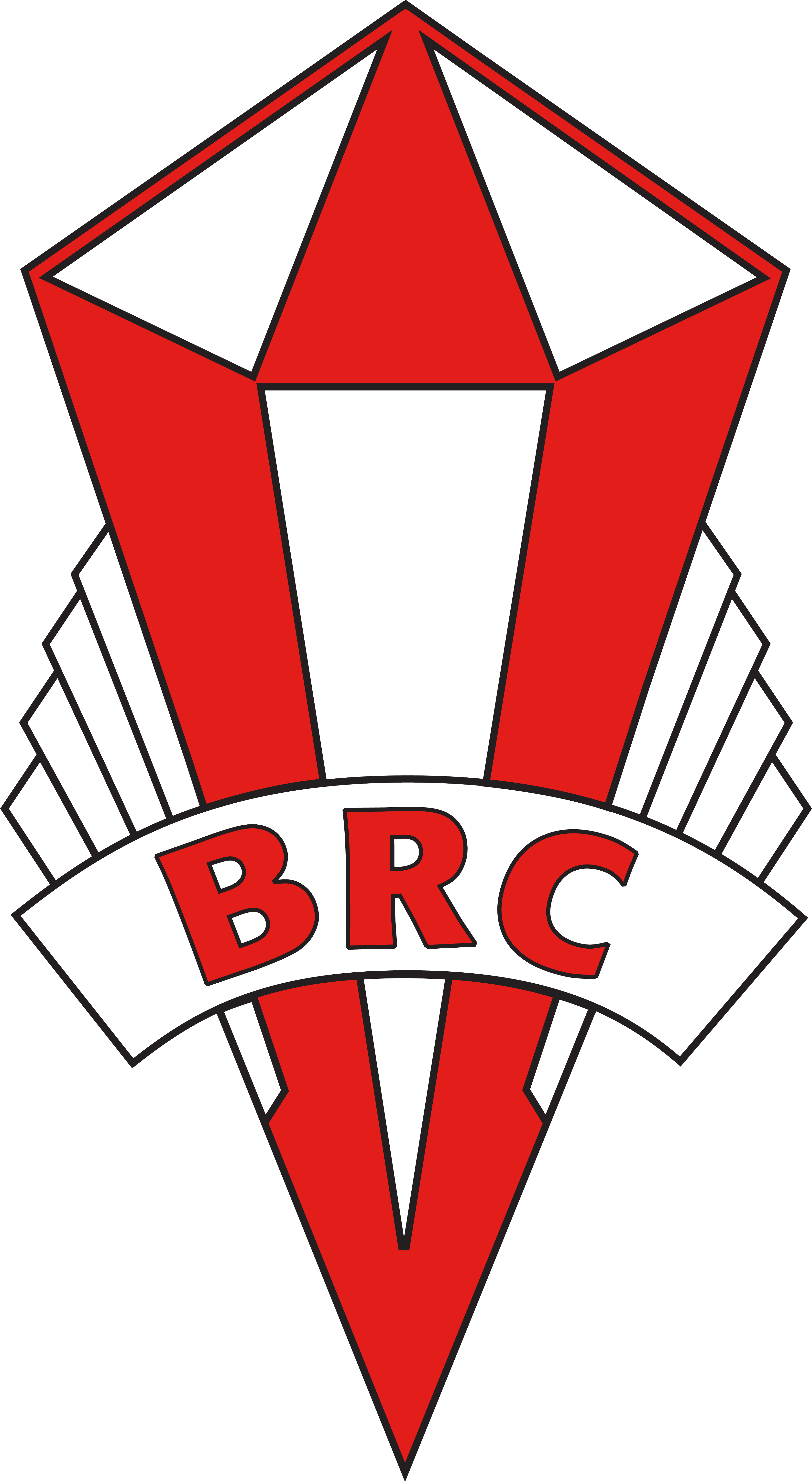 But with that said, there was mostly a general ambivalence toward the logo from the student population. The logo itself was seen in a few places in the gym, but it was not located on the uniforms or the letterhead, as the school used the "lantern" logo that it had used before it adopted the First Nations logo in the 1960s. Of course, looking at the logo now, I can see how patently offensive it is, just by the red colouring of the skin (seen below). But at the time, it was just part of our school's culture, it was not emphasized, and we mostly just did not really even think about it as an issue after it went away in the spring of 1997.
Replacing the Redmen name
One of the biggest issues that proponents of keeping the name have suggested is that there is tradition with the name, and that changing the name would have the potential to damage the school's spirit. Nothing could be further from the truth. Bedford was a school with spirit before the logo was adopted in the 1960s, and it will continue to have strong school spirit after the name changes for the upcoming school year. I am sure that some alumni and current students are having an issue with the change, and they will have to work through it, but nothing will really change other than the name itself - which is the next significant issue the school will have to face. There is a
list of possibilities circulating
, but my favourite suggestions are "Reds" or "Red and White", since they preserve the spirit of the original name and honour the school's history as the Redmen without continuing the negative connotations.
And I'm glad that the discussion has finally been resolved, and that it seems to be having a positive effect already. A school in Calgary announced the next day that they were retiring the Redmen name, and the Regina School Board will be reviewing the Redmen name at a school in Regina. As I took a a cursory glance through the
list compiled on Wikipedia
of names inspired by First Nations peoples, I was shocked but not surprised to see hundreds of high schools that still incorporate names that vary from the relatively mundane (Arrows) to the horribly offensive (Savages), with the most popular names being "Braves", "Indians", and "Redskins". I found it ironic, though, that as I scanned the list, I thought that "I would have a hard time teaching at a school that had an offensive nickname like one of those ones"; then I realized, of course, that I had attended a school on that list. But my point is that now that I would have a very difficult time teaching at a school that used that kind of imagery in the 21st century.
It's up to the professionals now
But let's be honest: the place any wider wholesale change will start is likely not at the high school level; it will be with the few professional teams that continue to use these monikers. Some leagues are almost entirely free of these names. Perhaps unsurprisingly, Major League Soccer is free of these names, with their teams all having been established in the past two decades, a time period in which the sensitivity toward those names has increased. Their nicknames are an odd mix of references to European football teams, singular nouns, and shameful product placement (Red Bulls), but at least they're not offensive. There are no offenders in the NBA, as both the Atlanta Hawks and Golden State Warriors have moved away from First Nations imagery to use birds of prey and Romanesque figures, respectively.
The NHL has only the reigning Cup champion Chicago Blackhawks as offenders; their logo, however, was named as the best in the league by The Hockey News... in 2008. (Just let that sink in for a second.) There are several minor league teams, including a few in the WHL, that still use the iconography, though. The Edmonton Eskimos are the lone offender in the CFL, although their name has not been as publicly derided as offensive. Both the Blackhawks and Eskimos have mostly positive relationships with their communities, but I would not be surprised to see both team names coming under more public scrutiny in the next few years.
The two most egregious offenders of offensive team names are, perhaps unsurprisingly, football and baseball, the two most entrenched sports in the American psyche. Baseball has the Atlanta Braves and the Cleveland Indians (with their mascot Chief Wahoo), while the NFL has the Kansas City Chiefs and the Washington Redskins. Some sportswriters have begun to refuse to use the name of Washington's team in print, since it is so egregiously offensive, but the team's owner, Dan Snyder, has steadfastly refused to budge regarding any possible name change. Although the name itself is incredibly offensive, it's likely more due to Snyder's maltreatment of the media that the Redskins have been so singled out, but all four of those teams are equally at fault for perpetuating the use of team names that use First Nations imagery. It is long past time that these teams set the example and change their names and adopt new, non-offensive nicknames for their teams.
Conclusion
Although Bedford Road's change is positive, it can feel like it's just a drop in the bucket. It seems like we as a society are still a few years away from finally settling this conversation to the point at which continuing to use these names is as shameful as using other racial slurs that have been used in the past. This shift has been in the works for twenty years, and it's unfortunate that we might be twenty years away from seeing it more fully resolved. But the difference is going to be made now, by people who stand up for what they believe. The reason that Bedford is changing their name is because of the influence of a small group of people who used social media to spread their message. In regard to professional teams, it is time for fans to stop buying tickets and merchandise. It is time for broadcasters to stop supporting offensive names in their telecasts. It's just time for more people - myself included - to stop allowing this perpetuation to be okay.
I've learned through this reflection that I was part of the problem for the past twenty years. I was ambivalent to the name, and that's not good enough. I needed to be a voice and to state my displeasure with the use of the Redmen name earlier, and I'm slightly disappointed that I didn't. But I'm glad now to be a part of the conversation and to contribute positively to it going forward in whatever permutation it takes. And if alumni are given a vote in the change, I'll vote for "Reds".