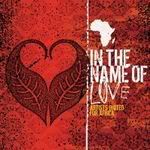 Last year, Sparrow records released a project entitled "Artists United For Africa - In the Name of Love." The goal of this album was to support the DATA project that Bono had helped bring to public attention, though in Canada some money from each disc sold was given to World Vision to help fight the AIDS crisis in Africa. The means was to get thirteen Christian artists to cover one of the songs from the greatest rock band ever: U2. For those that may not be familiar with the CD, here is the line-up of songs and artists.
Pillar - Sunday Bloody Sunday / Sanctus Real - Beautiful Day / Starfield - 40 /Sixpence None the Richer - Love Is Blindness / Audio Adrenaline - Gloria / Nichole Nordeman - Grace / Jars of Clay - All I Want Is You / Toby Mac - Mysterious Ways / Delirious? - Pride (In The Name of Love) / Tait - One / Grits. feat. Jadyn Maria - With Or Without You / Todd Agnew - When Love Comes To Town / Chris Tomlin - Where The Streets Have No Name
Despite the inherent problems that can be observed in attempting to cover songs by a band like U2, the result was surprisingly good. (Of course, some people might make the same argument regarding the audacity U2 showed in covering the Beatles, Bob Dylan, Jimi Hendrix, and themselves on their Rattle and Hum album. But I digress.) Several of these artists were included as promotional boosts for their label releases (I believe only Nordeman and Audio A did not have studio albums releasing in the same calendar year), but the package does not suffer from this obvious marketing manipulation. Only one of the songs, Grits' version of WOWY, is not really tolerable - really, what were they thinking, turning one of the best songs ever written into this hip-hop debacle? I like Grits, but not this. But I digress. Several tracks, including Starfield, Tomlin, and Nordeman were unremarkable - not really distinctively different from the originals. Tait's "One" was good, but choosing "One"? Message to Michael Tait: you're not Bono. Agnew and Audio did decent justice to their songs, despite the rewording of the second verse of "When Love Comes To Town" from "I used to make love under the red sunset" to "I used to find love...", an unnecessary and disappointing change. Delirious? and Toby Mac did a good job of their tracks, albeit a predictable one; still, their songs are two of the better on the CD for combining their own style with the original. The remaining four tracks are the standouts. Jars really folks up "All I Want Is You", while Leigh Nash's haunting vocals are perfect for "Love Is Blindness." Pillar's "Sunday Bloody Sunday" is the perfect album opener, while Sanctus Real's version of "Beautiful Day" is, dare I say, possibly better than the original. All in all, it was a respectable collection of performers who did justice to the original songs.
Many of U2's most popular songs are included, though some albums are entirely omitted, namely Boy and October, the band's first two albums, and Zooropa and Pop, the 1990s albums that most Christians deny even exist. But even when I heard about the possibility of such a project happening, my brain raced. Which of my favourite artists would I like to hear cover my favourite U2 songs? I came up with some ideas, but then I let the thought go dormant. Then one day when Googling, I came upon
this random blog
which brought up that very same question. So then I started thinking about it again. And thinking. And thinking some more. Using some of random dude's suggestions, as well as my own thoughts, I present to you the songs that I want to see on the second volume of Artists United For Africa. I have based this selection not only upon which bands I would like see included, but also which songs I would like to see included and which songs would fit different artists. I have even attempted to assemble some sort of logical order for the tracks. Please note that I have not taken into account any consideration of label or distribution. This is my dream, not their carefully constructed and marketed reality. I also opted not to include songs from
How To Dismantle An Atomic Bomb,
since it's still too fresh in my mind to properly evaluate it.
Project 86 - The Fly
Superchick - Even Better Than The Real Thing
Relient K - I Will Follow
Rebecca St. James - Discotheque
Skillet - Hold Me Thrill Me Kiss Me Kill Me
Switchfoot - Bad
Third Day - I Still Haven't Found What I'm Looking For
P.O.D. - Bullet The Blue Sky (Live)
Tree 63 - Silver and Gold
Steven Curtis Chapman - Heartland
Mute Math - October
Further Seems Forever - Until The End of the World
Blindside - Wake Up Dead Man
Audio Adrenaline - Walk On
Of course, I realize the likelihood of this line-up actually happening in next to nil, especially due to the language and content of some of the original songs, but I can dream, can't I? Now the question is posed to you: which of your favourite artists would you like to see cover your favourite U2 songs? Discuss!
P.S. If you're wondering why it has seemed that an inordinately high number of my blogs of late have focussed upon U2 or some manifestation thereof, it is because I am especially preoccupied with their music, as I have been since the release of HTDAAB, in eager anticipation of seeing them perform on the first leg of the 2005 Vertigo World Tour in exactly one month in Vancouver. My apologies to any U2-haters out there. Come back to the blog in May, or suck it up until then. Peace.